Issues with Mozilla Firefox Extensions (Updated)
Is your normal web browser Firefox? If it is, then you may have noticed an issue with Extensions for Firefox since Friday night (1/3/19). It seems, due to a certificate issue with the browser, that no add-ons/extensions are loading with Firefox. Today's post will discuss what is going on, and a possible temp fix for this situation. Issues with Mozilla Firefox Extensions 
So What Happened With Firefox
According to Mozilla, the parent to Firefox, there was a certificate issue which caused already install Firefox extensions to stop working. The certificate error also prevents new extensions from getting installed.
If you were to check your extensions on Firefox, you will currently see that none are listed.
If you then select Unsupported, from with the page (on the left side), you will see that all of your extensions will listed as "Not verified for use in Firefox" and they are disabled.
If you try to install a new extension, you will see the error message, "The add-on downloaded from this site could not be installed…".
So What Can You Do Now
According to Mozilla, they are providing a temporary fix using a function on Firefox called the Studies system. If the function is enabled on the browser, then you don't have to do anything and you will see the fix in the next few hours. To check and see if the Studies function is enabled Go To
Firefox Options/Preferences -> Privacy & Security -> Allow Firefox to install and run studies (scroll down to find the setting)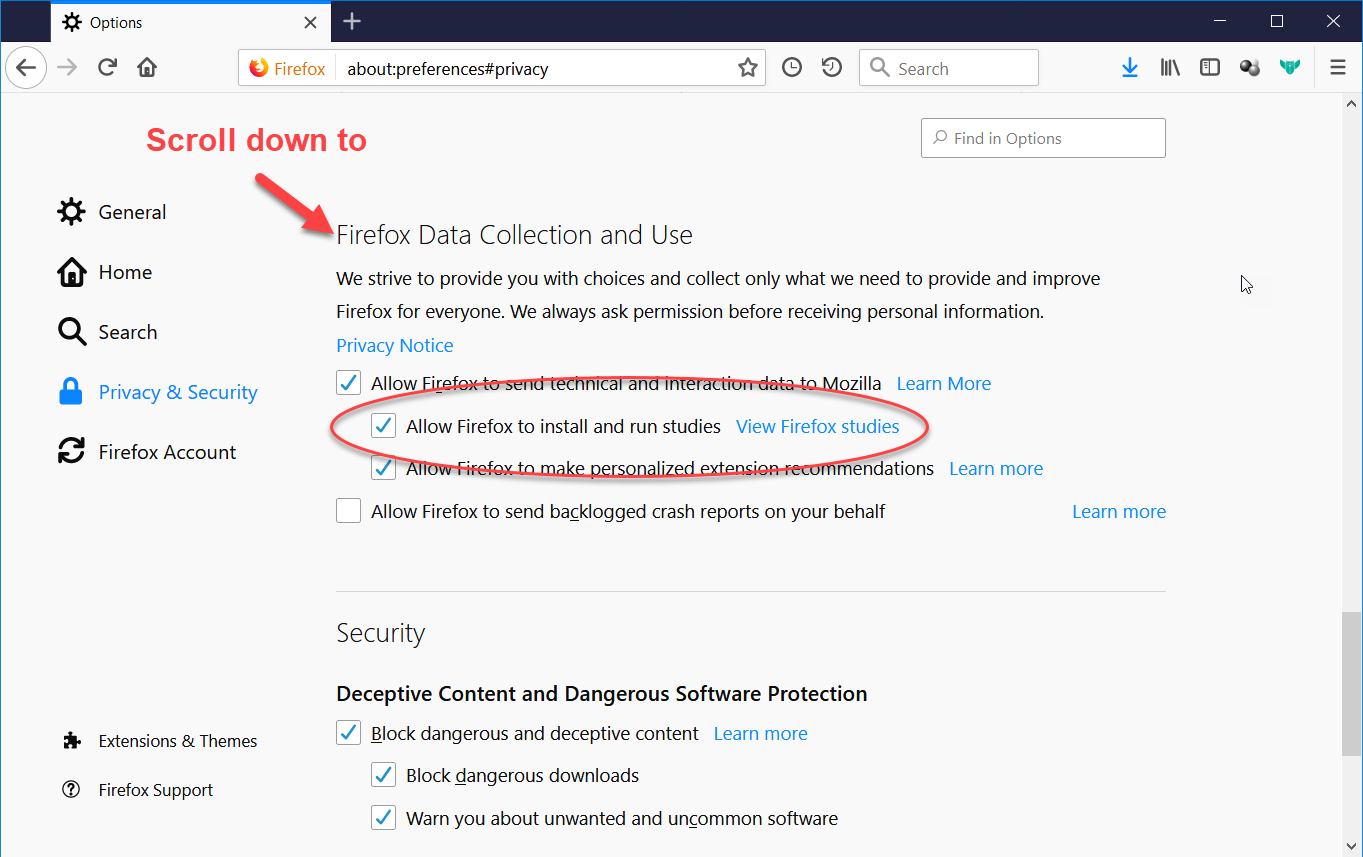 Studies can be disabled again after the add-ons have been re-enabled
It may take up to six hours for the Study to be applied to Firefox. To check if the fix has been applied, you can enter "about:studies" in the location bar. If the fix is in the active, you'll see "hotfix-update-xpi-signing-intermediate-bug-1548973" in either the Active studies or Completed studies as follows: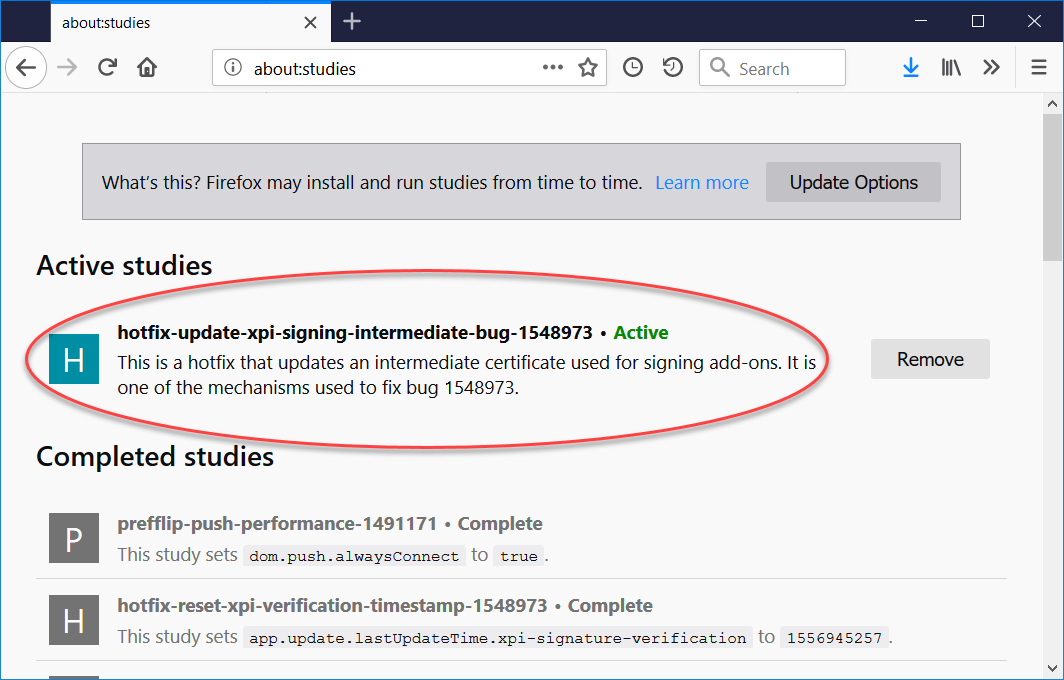 You may also see "hotfix-reset-xpi-verification-timestamp-1548973" listed, which is part of the fix and may be in the Active studies or Completed studies section(s).
(Not)Final Thoughts
A couple of things to keep in mind.  If you are on Android, the steps above wont work for you at all.  The steps above are a workaround.  Per Mozilla, they are working on new builds of the Firefox browser that will properly address this issue for everyone. So if you just want to wait, there will be a full update to Firefox in the next day or so (I'm sure). And I list this as a not final thought, because I'm sure this will be developing with more info….so stay tuned.
Update For 5-4-19 @11:40 p (ET)
I mentioned there would be more.  Here is the latest tweet from Mozilla
So for those who took the steps listed in the post, to opt-in to the studies program, your browser should now be updated.  If it isn't updated yet, have you closed it and reopened it?  Once your browser is updated, you can uncheck the studies program from the preferences, and the update will still work.  Also per Mozilla, a permanent fix updated build for Firefox is coming but is still in the hands of QA (Quality Assurance) in testing…..
Update For 5-4-19 @11:50 p (ET)
And one more thing according to the Mozilla twitter account
If you have the update, but your extensions still don't seem to operate, type in the address bar about:config and then in the window that opens, look for the line that says app.normandy.first_run and change that setting from false to true.
Update For 5-5-19 @5 p (ET)
So according to the latest update by Mozilla, a new version of Firefox (66.0.4 / 60.6.2) has now been realized that corrects the extensions issue. Key thing to note from the note posted by Mozilla, is that "There are some remaining issues that we are actively working to resolve".  So this updated version may still show some issues, based on what they said.
So we now wait for more details, and to see what Mozilla does next.  Stay tuned.
Source
Firefox Status – Mozilla Add-Ons Twitter Account
Firefox Info – Mozilla Blog